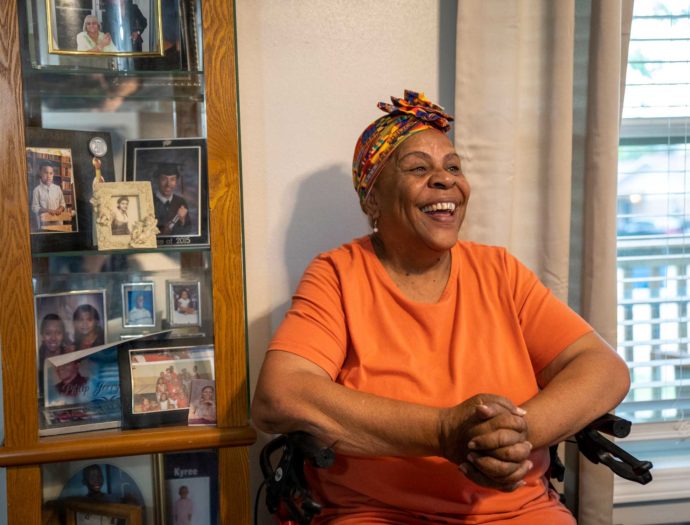 June 2, 2021
A hallway and a house key: what hope looks like in small-town Texas
After living in her new home for two months, Willie Green still likes to walk up and and down the hallway.
"Never in my life have I had a hallway to walk down," she says. "I've never lived in a house big enough to have a hallway."
Her house, built by volunteers from Mennonite Disaster Service and Disaster Aid Ohio, an Amish disaster recovery group which is part of MDS Eastern Ohio, is part of a 23-home community called Tierra de Esperanza, or "Land of Hope."
For 64-year-old Willie and her sister Barbara, who lives with her, the hope extends not only down the hallway but to future generations of their family.
When Hurricane Harvey struck in 2017, it was the largest storm Willie had ever seen.
"I've lived here all my life, and we've never had a hurricane like that," says Willie. "This was an eye opener."
Although the Greens were able to safely evacuate, they came back to a badly damaged home.
"We had a big hole in the ceiling," says Willie, "and gradually every cabinet just fell apart."
Every time it rained, Barbara and Willie put buckets under the leaking ceiling, until part of the ceiling simply fell. Mold began growing up the walls, exacerbating Barbara's asthma.
Moving into a brand new home was a dream come true in many ways. But for the Green sisters, moving off their land—a few blocks away on Ashby Street, where their mother, their grandmother, and generations before had lived—was an act of courage.
"That's another first. I've never had a house with a key, in all those years. Can you believe that?"
— Willie Green, homeowner in Tierra de Esperanza, or "Land of Hope"
"We had to leave our land," says Barbara, noting though they can still walk over to their former street it felt like letting go of a piece of their family history. "We'd been there all our lives," adds Willie. "Ashby Street was the only street that Black people lived on. It used to be just Black people. So that was a hard thing, to leave the land."
But she has no regrets.
"Even the bathroom door had fallen off in the old house," she says. "The house was no longer fit to live in."
Sadly,  the Greens lost their younger brother to COVID-19 on August 12, 2020.
"We were so excited for him to see the house," says Barbara, tearing up at her kitchen table. "But he passed before that could happen."
While others questioned the Green sisters' decision to move off their land, their brother never did.
"I knew we had his blessing," says Willie. "There were so many days I thought: 'We ain't gonna get nothing—never.' But then I'd tell myself: 'You have to be patient.' "
Now the Green sisters call their home "a generational house"—one they plan to pass down to children, and grandchildren who need a place to live.
The Greens received keys to the house at a dedication ceremony held in March.
"That's another first," says Willie. "I've never had a house with a key, in all those years. Can you believe that?"